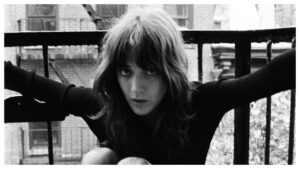 As a former child dancer, maybe it shouldn't surprise anyone that 21-year-old Talia Ryder moved so gracefully into singing, directing and acting. But don't make her choose just one. "I really like making things, whether that's acting, directing, choreography or all of the above," she says.
Since her 2020 film debut in the Sundance abortion drama "Never Rarely Sometimes Always," the Indie Spirit nominee has brought her naturalistic acting to "West Side Story," "Master," "Do Revenge" and "Hello, Goodbye and Everything in Between." She returns to the festival circuit with "Dumb Money," Craig Gillespie's comedy about the 2021 GameStop stock craze, which had a TIFF Gala premiere Sept. 8. and begins its theatrical rollout Sept. 15.
"It was such an insane moment in time," says Ryder, who was interviewed before the SAG-AFTRA strike. "Everyone was on their phones, and I felt involved in that story — a good friend was pretty invested in it, financially and emotionally. Instead of [the film] totally being from the perspective of big Wall Street guys, you see how all kinds of people are affected."
Given her impressive work, it is surprising to learn that the soft-spoken Buffalo, N.Y. native became an actress by chance. "I've been a dancer since I was little — that was what I wanted to do. [But] on my 12th birthday, my grandma took me to see 'Matilda the Musical' [on B'way] and I begged my mom to let me audition. I didn't consider it acting — it was the dancing that inspired me — and when they asked, 'Can you sing?' I [fibbed], 'Of course!'" she laughs.
Similar twists of fate guide the protagonist she plays in Sean Price Williams' road comedy "The Sweet East," which hits the New York Film Festival on Oct. 10. "I rarely see a teenage character who's so complex and confusing," Ryder says. "I think she's figuring out her point of view as she goes. That's what's so beautiful about the character—she's doesn't know her place in this world and is desperate to figure it out."
Ryder helmed a half-hour short about her trip to Cannes with "East," and several of its crew members worked on her directing debut this summer: her friend Del Water Gap's music video, "All We Do is Ever Talk," which she also choreographed. "It's really nice to be able to create with people that you know and trust," she says.
Ryder may return to Sundance with Jack Begert's drama "Little Death," reportedly playing a woman struggling with addiction. "It's another strange, sweet indie film I'm excited about," she says. But the project that seems closest to her heart is James Napier Robertson's "Joika," based on the true story of Joy Womack, an American ballerina who made history by being accepted into Russia's Bolshoi Ballet Academy. It premieres Sept. 9 at the Deauville Film Festival. "I'm trying to keep dance a part of my professional life," she says. "It was such a dream to be able to do everything all at once."
Articles & Interviews - Dumb Money - Gallery - Photoshoots