V Girls: Talia Ryder
A new star in motion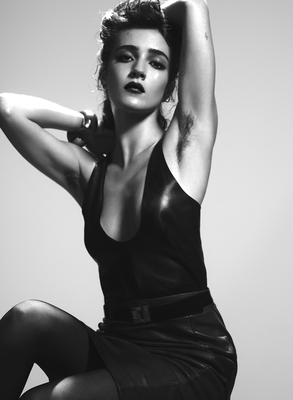 "Motion! Motion! Motion!" Talia Ryder says, when asked to do the impossible: chart her future in three words.
She laughs and, in between soft chuckles, dismisses her previous response. "I'm just kidding." Make no mistake, however, the misgiving she feels about trying to describe her future is not a by-product of Ryder's self-doubt, but an expression of all the places she can go. From starring in campaigns for Saint Laurent and her leading role in Sean Price Williams' debut drama The Sweet East, to making her directorial debut with a music video for Del Water Gap this past summer, the multi-hyphenate is in constant ambulation, shifting between roles with ease. It comes as no surprise that this ever-mov-
ing force entered the art world through a space
where movement was everything—her home-
town ballet studio in Buffalo, New York.
A dancer before she was anything else, Ryder spent summers in New York City, staying with her uncle and dancing at summer intensives. It wasn't until 2015 that Ryder moved to the city after landing the role of Hortensia in the Broadway production of Matilda the Musical. Here, she found a home in the choreographed chaos, the constant movement of a metropolis. "I like leaving my apartment in the morning and not knowing when or if I'll ever be back," explains Ryder. "That's the fun of it."
Besides their spontaneous, wandering nature, Ryder loves the streets of New York because they inspire her personal style. Ryder first leaned into the world of fashion at the age of 17 while promoting her film Never Rarely Sometimes Always and Saint Laurent dressed her for the press tour. Since then, she's become an ambassador for the French fashion house and cultivated a friend- ship with creative director Anthony Vaccarello. "He used his position in fashion to make all sorts of art and bring all sorts of different artists together," she says. "He's created a real family— I've even met numerous collaborators that I've worked with through Saint Laurent." One of these collaborators was Del Water Gap, also known as Samueal Holden Jaffe, who worked with Ryder on her directorial debut, the music video for his single "All We Ever Do Is Talk."


The pair met at the Saint Laurent SS23 menswear runway, where Ryder shared her interest in directing. Moving behind the camera has always been a goal for her, and directing Del Water Gap's video allowed her to bring her filmmaking vision to life–a forward step into new territory. The video, which has nearly 120,000 views on YouTube and her penchant for hazy, muted colors and dramatic lighting. When she posted it, her Instagram comments were flooded with gushing messages and red fiery hearts — the highest of Gen Z praise. Aside from Ryder's behind-the-camera aspirations—which also include filmchoreography—this star shines in front of the camera also. In The Sweet East, her character, Lillian, takes a strange yet beautiful journey across the Eastern seaboard in along the way by a cast of eccentrics, who represent the astonishing variety of human beings in contemporary society. The film, which Ryder calls "one of the best and most fulfilling creative experiences of [her] life," is a postcard of perpetual motion. Maybe her initial answer wasn't so far off the mark after all.
Articles & Interviews - Gallery - Photoshoots